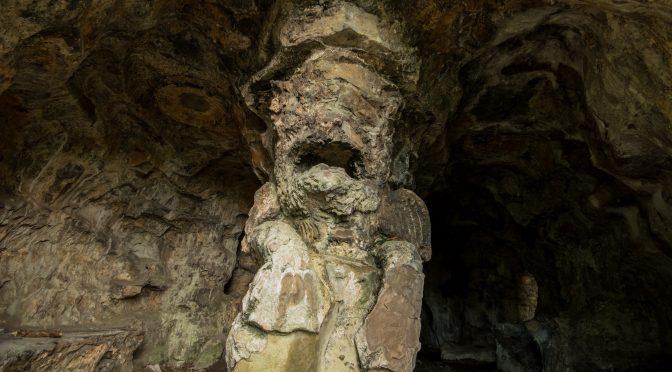 I've always been partial to an underground space, the weirder the better!
Sat in my folders for many years was a place seldom seen; a nice return with friends and I was able to complete my set of images having always suspected there was more to be found!
Armed with a vague idea I set off  on a hunt to see what we could find! Luckily it wasn't as difficult to find as expected!
Most  of the decorated underground spaces I've come across are normally very small, usually made of sandstone  and very very dark! These were a nice contrast  although a little bit tricky to capture with  the light lime stone and the light pouring in!  These are 19th century carvings of mythical creatures, symbols and emblems tucked away in such a quirky little space!  I think there's the head of a a couple things, a cyclops remains of a bird,  headless man some kind of boar some kind of bear/pig? many had glass around the eyes pushed into the stone!there was remains of a stone circle and lots of carved seating.
There was also the remains of some kind of tower a shell grotto and a cemetery! slightly puzzling thing to find in the location it was not an easy location to get the bodies too but the metal headstones just kept going into the brambles and the woods.
Its a beautiful place and i'm hoping it remains that way!